1999 —– A Fitting End:

The turbulent epoch closed with neither a bang nor a whimper, but with ecstatic explosions of fireworks, the first truly global celebration in history. For us, the year was filled with joy, lots of laughter, and remarkable good fortune. However, Jim's grandmother, his cousin Robert, and Linda's college roommate, Helene, died this year. All will be missed.

April: Jim and Linda sacrificed a weekend of spring migration to attend the Rice Alumni College, which turned out to be a fair exchange. We ran into some old friends and actually learned something.

August: Jim celebrated his 20th KDay on August 28th with a boisterous party. He has decided to forego celebrating birthdays in favor of 1000-day intervals from now on. They come less frequently and don't have the nasty habit of cluttering up Thanksgiving. Mark May 24, 2002, on your calendars now. If you want to calculate your own next KDay, use the KDay calculator here.

Jim's Grandmother failed to live the100 years that was her goal, dying weeks short of her 99th birthday. Spanning almost all of this incredible period, her life, like the century, ended one year short, but witnessed such disparate events as paving the main streets in Shreveport, landing a man on the moon and the birth of the Internet. Born on the day a remnant of the famous Galveston hurricane swept through Shreveport, Mamaw died in her sleep on a calm, sunny day. She was intelligent, stubborn, energetic, healthy for most of her life, and famous for describing almost everything in the superlative degree of comparison. "That was the best <fill in the blank> I ever put in my mouth." (Click here for photograph.)

Labor Day: Linda conned one of her Minneapolis cousins into arranging a family reunion by promising to bring her mother, Lil. The event was a great success. We were even lucky enough to hit beautiful weather, when summer lingered unexpectedly through that weekend. Leslie joined us from Seattle and several cousins trooped into town from the hinterlands as far away as Fargo, ND.

October: We took a blitz trip to Venezuela with Michael Carmody of Legacy Tours, whom you can reach at this address. In Venezuela, we saw an amazing 421 species of birds, 160 lifers, in eight days of non-stop birding. Michael has a real knack for finding birds, along with all the skills needed to identify them and lure them into the open, and he even jokes in Spanish with the natives. Our two favorite birds from the trip were the Chestnut-breasted Chlorophonia, a stunningly beautiful bird that, alas, we were unable to get a picture of; and the Torrent Duck, whose picture Jim stole from the Internet.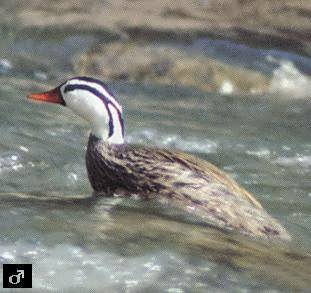 Thanksgiving: In addition to our traditional entertainment, attending the latest computer graphics movie, Toy Story 2, we were regaled this year with Charles's public reading of Jim's second grade report card. The report, a two page narrative, turned up in Mamaw's papers. A sample: "Jim has some very worthwhile information concerning various subjects, but is somewhat hesitant about volunteering. If asked a question he invariably has the right answer, but he needs more confidence in himself, so that he will be willing to offer suggestions to the group and let them benefit from his ideas." Jim replies, "I got better."
(Click to see an image of the report.)
Christmas: We returned to Houston for a brief, but enjoyable, family Christmas with the rest of the Hargrove clan. Jim got in some serious birding at the Mad Island Marsh Christmas Bird Count, which is probably the #1 count in the nation again.
Thoughts on a New Millennium
"We're lost, but we're making good time!" ― Yogi Berra
"In the 21st century things will be more or less the same as now, but different." ―Joyce Carol Oates
"The millennium doesn't really end until 2001." ― Many pedants, including some in our family.
"By popular demand, the twentieth century was cut short." ― Linda Hargrove, who suggests we celebrate again next year.
Amaze your Friends
The earliest recorded date, according to http://www.nist.gov/pml/general/time/ancient.cfm or http://www.factmonster.com/ipka/A0001198.html , corresponds to 4236 BCE (give or take a few years), that is, 6236 years ago. Thus, we are currently living in the seventh recorded millennium, and won't be ready for another one for another 764 years. See also http://www.britannica.com/bcom/eb/article/xref/0,5716,19896,00.html for everything you always wanted to know about calendars and a lot more.