2000: What a year! We learned that bears still roam on Wall Street, and that "hanging Chad" was not a frontier-era judge. After everything that transpired during the year, we concluded that 2000 belongs back in the former century, not as the first year of a new millennium. Despite the chaos, we survived in good health only slightly battered by the stock market. Claire became a real doctor and started her residency. Charles returned to school to start a new career. Jim finally got paid for writing. Linda continued her role as breadwinner and trip planner.
(Note about pictures: This page contains the pictures included with the paper version of this report. Click on the pictures for a blown up view. Many more pictures are on the Picture Gallery 2000.)
April and May: We all trooped up to Dallas to see Claire receive an award as the outstanding surgery
student, returning a few weeks later to see her get her MD. Claire showed us how to get cheap motel rooms using Priceline, part of her continuing effort to educate the rest of the family on travel bargains.
June: We decided to celebrate Claire's graduation with a trip back to the home of the Hargrove clan, in Yorkshire, England. Alas, Claire wasn't able to go along, but Linda, Jim and Charles went anyway. A few days in London checking out some of the museums and antique shows served as an appetizer. A two-hour train ride deposited us in the city of York. Charles managed to locate a Hargrove gravestone dated 1860 in the cemetery, but stones old enough to mark our ancestors had crumbled. We consoled ourselves with a ghost walk in the "most haunted city in Europe."
The nearby Yorkshire Dales proved to be lots of fun: some new birds and a live Hedgehog, fabulous scenery, a quaint old B&B, a stately home, and historic Fountains Abbey. After that, we headed east to the coast, stopping for another stately home and cliffside birding, before ending up in Whitby, the English home of Captain Cook and Dracula. There we visited St. Mary's, the most interesting church of the trip, accurately described by the guidebook as a "dog's dinner of architectural styles," before returning to London.
Kami Nadim, Jim's old bridge partner, welcomed the whole family to Horsham, south of London. His wife, Louise, served home cooking, and Kami even drove us to the airport the next day in exchange for the dubious privilege of sitting across the bridge table from Jim one more time.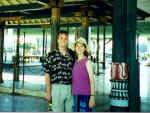 We returned home just in time for Charles to head out for Indonesia with Amy, who is still working on her Certified Nurse Midwife degree in California.
July: Port Aransas served as the site of a reunion with our former foster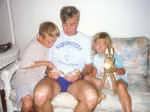 children, Rosalind and Stanley, together with Ros's kids, Dylan and Rachel, and her fiancé Greg. Linda and Jim got a chance to play grandparents, if only for a few days.
Labor Day: Linda and Jim flew to Halifax, NS, to join Jim's parents who had "won" the use of a friend's house in a charity auction. The weather was typical of Nova Scotia, with lots of misty rain and delightful cool temperatures. We tramped around the woods birding one morning, went to sea in search of whales and saw one Minke. After learning about the joys of Cod fishing at the Maritime Museum, and checking out funky local architecture, we drove across the island to view the famous Bay of Fundy tidal bore, which causes rivers in the area to flow upstream. The event lived up to its name. Ask us to show you the exciting video of the three-inch surge.
Thanksgiving: Once again, we gathered in Claire's apartment for Thanksgiving dinner, this time in New York City. Claire was on duty Wednesday night, but managed to get time off from Thursday through Saturday. Jim's parents joined the four of us, and Claire invited some doctor friends, so eight of us crowded into her small apartment to enjoy the traditional feast. Friday we split up, the men checking out the New York Public Library, while the women did a bit of shopping. The prize of the shopping trip was a new rug, which we installed in Claire's living room, manipulating the furniture like a Rubik's cube in the process. Of course, we had to sample the delights of Manhattan: overpriced restaurants and a Broadway play.
Linda,
still working as a Family Nurse Practitioner,
· Learned that an assisted living center across the street from the clinic would provide a steady stream of new patients. In anticipation, the clinic has been augmented with a hearing specialist, a foot doctor, another Nurse Practitioner and a young Family Practice doc slightly older than Claire.
· Is happiest sitting in her favorite chair with a good book and a warm blanket, sipping iced tea through a straw. Sometimes Queenie joins her in the chair.
· Is optimistic that Jim will come to his senses, give up this nonsense of writing novels, and go back to a real job in a real office for real money and benefits.
Jim,
trying to avoid coming out of retirement,
· Learned that making money on the stock market can be difficult. After the tech stock bubble burst, he spent the rest of the year struggling to break even, which he managed twice, albeit very briefly.
· Is happiest sitting before the computer with cat Ugwump in his lap, watching the market and writing, especially after he discovered that people would pay for short articles suitable for web publication. With wonted prescience, he spotted Great Plains Software before Microsoft bought them. (See http://www.alentis.com/aspinfo.asp?aspinfoID=1456&streamID=1.)
· Is optimistic that the market will resume its upward trek and that he will locate an agent to handle the details of publishing his novel.
Charles,
finding Archeology a poor way to pay the bills,
· Learned on a trip to Indonesia this summer with Amy that travel in the third world is not all Claire held it to be, especially when your visit coincides with a major school holiday.
· Is happiest running in long races. His goal for this year is to reduce his time in the marathon to less than four hours. He missed by mere minutes in this year's Austin marathon.
· Is optimistic that a second Masters, in Library and Information Science, will render him more employable.
Claire,
discovering that the hard part is just beginning,
· Learned that residents work inhuman hours, and that third-year residents sometimes need to be taken down a peg. That was the first week. Then she learned that it is possible to sleep almost anywhere, except in the OR.
· Is happiest on a long vacation sleeping on a beach with bargain accommodations, reached using airline miles accumulated visiting hospitals before her residency "match." She managed trips to Brazil, Hawaii and Mexico before starting her new life as a surgery resident at Cornell University Medical Center in Manhattan.
· Is optimistic that the pros of medicine outweigh the cons, and that soon she will have straightened out everyone over who should be in charge. She also hopes that her father will learn how to play Free Cell better after watching her win game after game at lightning speed.