Jim and Linda Explore more of the World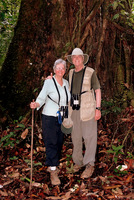 Jim And Linda in front of Huge Tree in Borneo
Despite having visited every continent on the planet, the intrepid birders went to Cuba with the Cloudmans, Borneo and Malay Peninsula with the Englemans, and planned to cruise the Molluca Islands in Indonesia. The last trip, begun as 2012 segued into 2013, didn't turn out as planned. Jim's daily blog of the first three trips is online in PDF format. (Cuba, Borneo, Malay Peninsula) The last trip is detailed in a report on our visit to Taiwan.
We also traveled back to Austin and Houston to visit old friends and take in two ballets. We returned in September for
Granny's 90th birthday party
and again in October for Rice University's Centennial Celebration.
---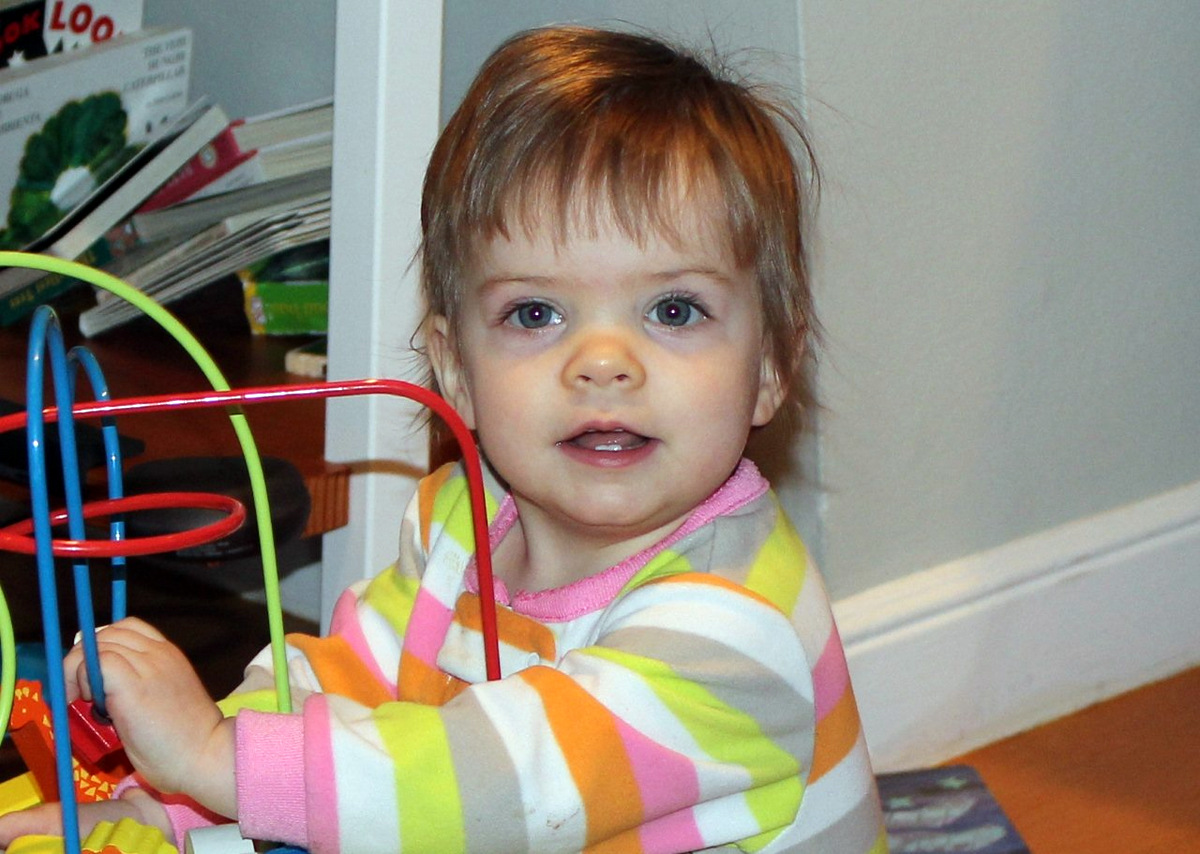 Scarlet Standing
Scarlet will get a Sibling in June
Scarlet was one year old on December 30, 2012. She is not quite walking, but gets around well by crawling. If she has something to steady herself with, she is fine. Her talking is mostly still babbling, and "Granddad" is too much for her. "Nana" is very close. Jim is thinking that he should have tried something easier. His grandfather was called "An-Da," supposedly an attempt to say "Granddad." He may start working on that.
She has a big shock coming in 2013: Ron and Claire are expecting again, with delivery scheduled for June 4, 2013. What will it be like when she is no longer the center of attention.
---
Kai and Kiera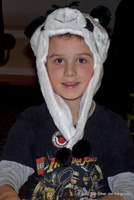 Kai in Panda Hat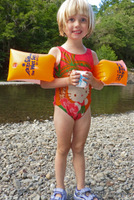 Kiera at Navarro River
Our older two grandchildren are growing up. Both are cute and smart as can be. Both are baseball fans—supporting the A's as well as the Giants. Kai shows off his Panda hat in the photo. Kiera is a budding entymologist, much to her grandfather's delight. The photo shows her at the Navarro River near Philo with a cup full of water bugs.
---
Granny Turns 90
Jim, of course, thought we should wait until January, 2013 and celebrate her 33rd K-Day, but no one else thought it was a good idea. Instead, we all gathered in Houston in September to celebrate. The full story, with pictures, is on its own page.
---
Comensals
Our companion animals are pretty much the same. Chipper loves his new home, especially Hannah, who lives next door. He stays with her when we go away on a long trip. She also feeds the cats, but they don't take much notice. Chipper, though, spends so much time with Hannah that he considers her place his second home. When we haven't seen for a while, we generally assume that he is over there. He knows when it is time for his daily frisbee catching event, which often means that he has to remind the humans in the house to get a move on.
Our three cats have worked out the order of eating, much to the displeasure of The Min, who comes last. She is not skinny, however, so there seems to be enough food to go around. We plan to return Cary, the large black male part of Cash and Cary, to Panika in Austin in 2013, a task made a bit more difficult by his size: too large to fit under the seat in one of Southwest Airlines planes.
---
Standard apology for the lateness of this report. Hope you have a wonderful 2013. We look forward to welcoming any visitors to our home in Oakland. We have two guest bedrooms ready for you.