Ron and Claire Real Estate Moguls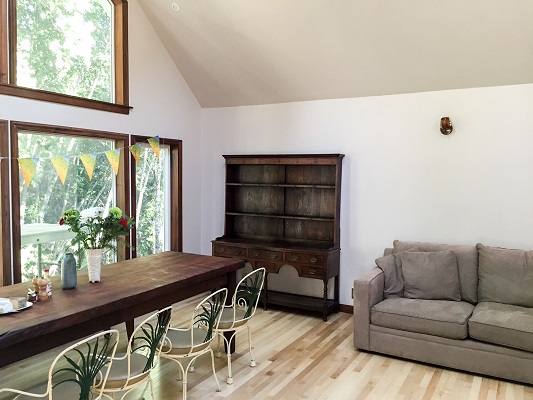 New Dining Room at Purple Haze
Ron and Claire, as reported last year, decided to remodel Purple Haze by finishing the second floor, adding two bedrooms and a much needed second bathroom. The result is a nice house, suitable for permanent living, not just a long weekend.
With that acccomplished, they embarked on yet another remodeling job: adding a separate dining room by enclosing the back porch. Some of the furniture from Granny's Condo, including especially the Welsh Dresser, highlight the new space. The chairs at the new table come from Mamaw, and have been stored for years. It's nice that they have finally found a home.
With such a great house in a fabulous location, the pair decided to abandon San Francisco for a year. They both took Sabbaticals for a year and moved up to Philo. The Old Condo on Clayton was sold for a nice profit. The new one, on Texas Street, is being rented out month to month at the ridiculous rates now common in San Francisco. They plan to go skiing and travel, with a return to the big city in time for Scarlet to start Kindergarten. (Yes, it is complicated.)
With time to focus on the garden, Ron produced a bountiful crop this year, especially tomatoes. He canned dozens for later use in soups and stews.
Of course, they also continue to harvest wild mushrooms on the property.
| | | |
| --- | --- | --- |
| Nico is Ready to Hunt Mushrooms | Ron and Nico at Playa del Carmen | Scarlet and Claire at Playa del Carmen |